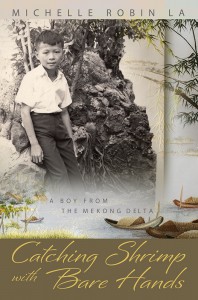 Catching Shrimp with Bare Hands is the true story of Lượng La, a boy growing up in the Mekong Delta in the midst of the Vietnam War. When the 1968 Tết Offensive forces Lượng's family to flee the countryside, his mother continues to travel back and forth to their island farm despite threats from the Việt Cộng and nearby firefights.
Out on their farm in the middle of the Mekong River, Lượng wants to catch fish and slingshot birds, but Việt Cộng, called mysterious misters by the villagers, stop by his family's hut and stay. "The frog dies because of its big mouth," his mother warns. The mysterious misters behead a neighbor, and Lượng's aunt goes missing.
Lượng plans to join the Army as soon as he's old enough to fight, but the war ends before he has a chance. Communism descends, pulling him back in time to a land without electricity or fuel where his family has to hide the books that haven't already been burned. Propaganda that "kneads their skulls," neighbors spying on each other, and the threat of starvation drive Lượng to escalating acts of defiance. About to get caught by the authorities, he drops out of school to help his family build a boat to escape.
Catching Shrimp with Bare Hands: The Boy from the Mekong Delta is available at Amazon in print and Kindle versions, as an iBook, on Google Play and in local bookstores.
Book Excerpt: Unconditional Surrender (30 April 1975)