OCTOBER 2016
Thanks to my son's comment one day, I have this #cnftweet published in Issue 61 of Creative Nonfiction: Learning from Nature (https://www.creativenonfiction.org/issue/61).


Join me at the Santa Barbara Education Office's Annual Breakfast with the Authors. Saturday, Oct. 1 from 10 am – 1 pm. Tickets are available here.
SEPTEMBER 2016

My poem "Smoking a Pot of Gold" was a finalist in Cha's "Addiction" Poetry Contest. I talk about my poem and the inspiration behind it on Cha's blog here.
AUGUST 2016
Aug. 1st, I had the pleasure of speaking to the Mermaids and Seraph's Book Club in this charming room, the University Club's Blue Room.  

SUMMER 2016
I've been invited to present at several groups this summer. It's always a pleasure, and I enjoy sharing my husband's story. Let me know if you'd like me to visit your organization or book club!
APRIL 2016
I'm honored that an excerpt from "Catching Shrimp with Bare Hands" is featured in The Missing Slate, an international arts and literary journal dedicated to upholding free speech around the world.

The Village News published an article about our trip to Fallbrook and the overall great work the Fallbrook AAUW is doing with their Mentorship Program:
Author Michelle Robin La captivated the room with a presentation on her first book, "Catching Shrimp with Bare Hands: A Boy from the Mekong Delta."
MARCH 2016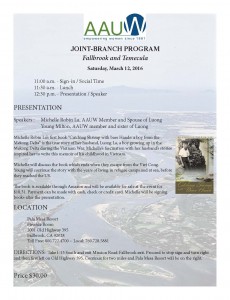 I'm honored to be the guest speaker for the Joint-Branch AAUW Luncheon (Fallbrook-Temecula) in Fallbrook, CA at 11am on Mar. 12th at the Pala Mesa Resort. Joint-Branch Flyer
The Santa Barbara branch of the American Scandinavian Foundation will be hosting a talk about my book at the Goleta Library on Saturday, Mar. 5th at 3 pm.
FEBRUARY 2016
I'll be speaking at Santa Barbara Rotary's Friday lunch meeting at Fess Parker's DoubleTree Resort on Feb. 5th.
JANUARY 2016
Thanks to Maravilla for inviting me to be their luncheon speaker on Jan. 25th!
DECEMBER 2015
I've been invited to a variety of book clubs and always enjoy it. Let me know if you 'd like me to come to yours!
NOVEMBER 2015
Fun to see our family's trip to Vietnam in this article on heritage travel: "Heritage tourism: Using travel to explore roots and culture" by Kristi Eaton for the AP. Read the article here.
I'll be the visiting author for the Santa Barbara Newcomer's November Book Club meeting at 1pm on the 4th.
OCTOBER 2015
Brain, Child Magazine featured my essay "Just One Box to Define My Child" as part of its Cultural Diversity blog series.
From 3-5pm on Saturday, Oct. 17th, I'll be signing books at Bank of Books,748 E. Main St. in downtown Ventura.
Oct. 7th at 7pm I'll be speaking to residents of Vista Del Monte.
Saturday, Oct. 3rd from 10am-1pm, I'll be a guest author at the SBCEO Breakfast with the Authors. Look here for tickets.
SEPTEMBER 2015
"Flickering Little Lights," a piece about catching fireflies in the Mekong Delta, is forthcoming in Issue 29 of Cha: An Asian Literary Journal, due out in late September. 

I'll be a guest author for downtown Ventura's E.P. Foster Library event "Focus on Writing: Fiction and Non-Fiction" Saturday, Sept. 12th from 2-4 pm in the Topping Room.
Sept. 3-4, I'll be visiting Fallbrook, CA to talk to their AAUW branch (3pm Sept. 3rd in the Fallbrook Library–Catching Shrimp with Bare Hands is their August book pick) and to Fallbrook High School students (in the library at noon on Sept. 4th).
AUGUST 2015
Catching Shrimp with Bare Hands is the Santa Barbara – Goleta Valley AAUW Book Club's August pick.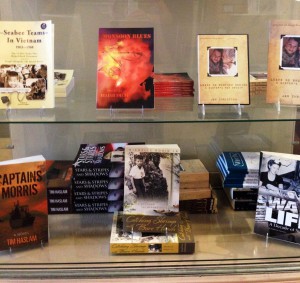 The Museum of Ventura County "We Remember: Ventura County to Vietnam and Back" a tribute to the county's Vietnam veterans, as well as those who didn't make it home, runs through Aug. 9th. Catching Shrimp with Bare Hands is in the Museum store along with books from some of these veterans.
JULY 2015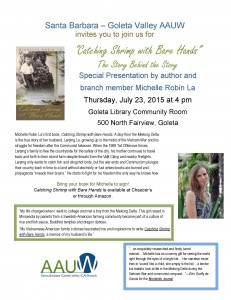 The Santa Barbara – Goleta Valley AAUW will be hosting a talk about the story behind my book at the Goleta Library Thursday, July 23rd at 4pm. AAUW Flyer
I talked with Literary Gumbo TV host Fred Klein about my book. Watch the interview here.
JUNE 2015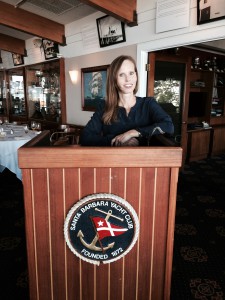 June 29th, the Santa Barbara Yacht Club has invited me to speak at its Monday Luncheon Forum.
Erin Graffy de Garcia reviewed Catching Shrimp with Bare Hands in her "State Street Spin" column in the June 18-25 edition of the Montecito Journal.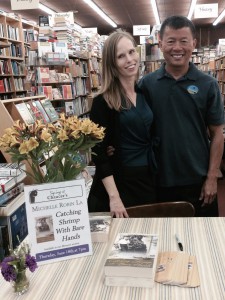 **BOOK SIGNING** Thursday, June 18th 7pm at Chaucer's Books. I hope to see you there!
Thanks to Santa Barbara Seasons Magazine for featuring Catching Shrimp with Bare Hands on its blog this month.
June 9th 12:30pm I'll be the speaker for the Las Aletas Book Club meeting at the Assistance League's Chapter House at 1259 Veronica Springs Road.
MAY 2015
"Patrol Boat Stop on the Mekong River," an excerpt from my book, is a first-place winner in the Southern California Genealogical Society's 2014 GENEii Family History Writing Contest and will be featured in SCGS's The Searcher.
APRIL 2015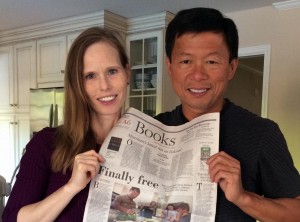 The Books section of the April 17th Santa-Barbara News-Press told our story in "Finally Free."
SV1World.com featured my book in "Reshaping the Vietnamese-American Identity."
Creative Nonfiction chose this tweet of mine as a winner in its Tiny Truths Contest for its Spring 2015 issue #55, "The Memoir Issue."
My creative nonfiction piece "Open Closed Eyes" appears in Mom Egg Review Vol. 13.
FEBRUARY 2015
Author Talk on Creative Nonfiction at the Music and Arts Conservatory of Santa Barbara February 21st.
JANUARY 2015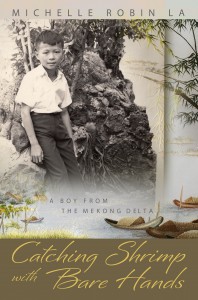 Catching Shrimp with Bare Hands: The Boy from the Mekong Delta is now available.
DECEMBER 2014
My essay on the challenge of being an American and writing about my husband's Vietnamese childhood appeared in Literary Mama After Page One: Experience "Immersion: Seeing Through Different Eyes"